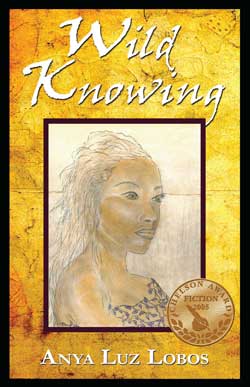 Available now on Amazon.com
Wild Knowing is a wonderful, breathtaking book. In lyrical prose, Anya Luz Lobos tells a highly original, visionary love story that opens up for the reader new dimensions of spirituality and consciousness. It will delight and enthrall anyone who has ever felt the desire for a deep mystical union with a cherished lover. In its imaginative power and depth of feeling, the story of Steve and Satia in Wild Knowing is worthy of a place alongside Tristan and Iseult, Abelard and Heloise, and other great lovers that have enriched out literature over the centuries. It will be treasured by all who read it and are open to its transformative vision.

—Brian Aubrey, Ph.D

"The citizens of planet Daria are humanoid, but capable of ultimate physical, spiritual and relational refinement. In part a novel of manners, the narrative's descriptions of Darian tact are reminiscent of the levels of politeness one finds in Japanese court culture. It may be true that men are from Mars and women are from Venus — but after reading Wild Knowing — they will both wish they were from Daria."
—James N. Powell
author of The Tao of Symbols and Energy and Eros

Diane Frank, author of Blackberries in the Dream House described Wild Knowing as "a higher love story with an impeccable sense of ethics - an interplanetary page turner with large ideas, written in the voice of the Wise Woman."

John Daniel, author of The Poet's Funeral writes, "Set on the planet Daria, Wild Knowing pairs a man from Earth with a wise and beautiful Darian woman. What the man learns about love from this absorbing experience would benefit us all."
Title: Wild Knowing – Author: Anya Luz Lobos
ISBN: 1-59540-832-0 – Publisher:
1st World Publishing
Page Count: 304 – Retail Price: $18.95
Date of Release: May 4th, 2007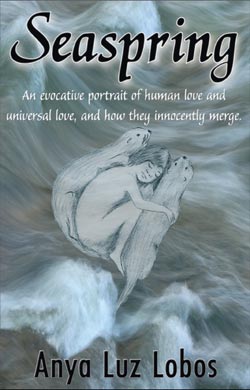 Available now on Amazon.com
This timeless tale of an orphaned boy rescued and raised by sea otters successfully joins diverse elements into an absorbing and imaginative unity. Permeated with mystical undercurrents, it is an astonishing first novel by a gifted storyteller.

"In a distinctly feminine voice, this narrative reveals the relationship between several interpenetrating seas: the sea of waters, the sea of maternal warmth, the sea of the imagination, an all yielding eventually to the sea of the spirit. So deep is the reader's immersion, that one emerges not so much as having read a book — as having been baptized."
—James N. Powell
author of The Tao of Symbols and Energy and Eros

"One of the loveliest stories of recent times."
—Melanie Brown, Ph.D
author of Attaining Personal Greatness
Title: Seaspring – Author: Anya Luz Lobos
ISBN (soft cover): 978-1-4218-9961-9
ISBN (hard cover): 978-1-4218-9962-6
Publisher: 1st World Publishing
1st World Publishing.com
Page count: 134 – Price $14.95 (soft cover), $21.95 (hard cover)
Date of Release: May, 2007